Mortgage Refinancing
Are you looking for a Mortgage Refinance in Surrey BC? Contact , Lakhvinder Gill mortgage broker in Surrey, BC who will help you to get the best mortgage refinancing options at an affordable rate.
Lakhvinder Gill – Mortgage Consultant is your trusted Mortgage Specialist serving the following cities of British Columbia:
Surrey, Delta, Langley, Burnaby, Vancouver, Coquitlam, Port Coquitlam, Port Moody, Abbotsford, Maple Ridge, White Rock, Richmond & New Westminster.
We work with you personally to offer you valuable insight throughout the process, save your time and find the mortgage that best suits your situation. We provide services all over the Lower Mainland.
Canadians today face many reasons to refinance their mortgage. These reasons range from credit repair, renovating, debt consolidation, to simply taking advantage of lower interest rates. With current rates at an all-time low, now is better than ever to think about leveraging your equity and putting your money to use. Maybe the kids are heading off to university, may be your parents need a lending hand. Have that equity offer you an even greater return by investing in a rental property. Call us to discuss your options to capitalize on this real estate boom.
Mortgage Refinancing: What Is It And How Does It Work?
Your home is an investment. Refinancing is one way you can use your home to leverage that investment. There are several reasons you may want to refinance, including getting cash from your home, lowering your payment and shortening your loan term.
What Does It Mean To Refinance A House?
Refinancing the mortgage on your house means you're essentially trading in your current mortgage for a newer one – often with a new principal and a different interest rate. Your lender then uses the newer mortgage to pay off the old one, so you're left with just one loan and one monthly payment.
There are a few reasons people refinance their homes. You can use a cash-out refinance to make use of your home's equity or look into a rate and term refinance to get a better interest rate and/or lower monthly payment. A refinance could also be used to remove another person from the mortgage, which often happens in the case of divorce. You can also add someone to the mortgage.
How Does Refinancing A Home Work?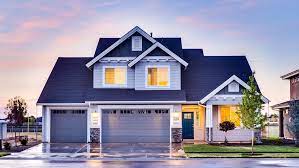 The refinancing process is often less complicated than the home buying process, although it includes many of the same steps. It can be hard to predict how long your refinance will take, but the typical timeline is 30 – 45 days.
4 Reasons To Refinance Your Mortgage
As we mentioned, there are a variety of reasons why you might want to refinance your existing mortgage. Let's look at some of the main reasons here.
Change Your Loan Term
Many people refinance to a shorter term to save on interest. For example, say you started with a 30-year loan but can now afford a higher mortgage payment. You might refinance to a 15-year term to get a better interest rate and pay less interest overall.
You can also refinance to a longer term to lower your monthly payment.
Lower Your Interest Rate
Interest rates are always changing. If rates are better now than when you got your loan, refinancing might make sense for you. Lowering your interest rate can lower your monthly payment. You'll likely pay less total interest over the life of your loan as well.
Change Your Loan Type
A different type of loan or loan program may benefit you for a number of reasons. Perhaps you originally got an adjustable-rate mortgage (ARM) to save on interest, but you'd like to refinance your ARM to a fixed-rate mortgage while rates are low.
Maybe you finally have enough home equity to refinance your Federal Housing Administration (FHA) loan to a conventional loan and stop paying a mortgage insurance premium (MIP).
Cash Out Your Equity
With a cash-out refinance, you borrow more than you owe on your home and pocket the difference as cash. If your home's value has increased, you may have enough equity to take cash out for home improvement, debt consolidation or other expenses.
Using cash from your home allows you to borrow money at a much lower interest rate than other loan types. A cash-out refinance can have tax implications, though.
Refinance & Home Equity
Refinancing your mortgage means taking a new mortgage on your existing property based on the existing equity in your property. (Equity refers to the difference between your current property value and the current out-standing mortgage amount). At Lakhvinder Gill – Mortgage Consultant,  we are specialized in sourcing non-traditional mortgage lenders for home equity loans and refinancing in Surrey, Vancouver BC.
Some of the reasons why a home equity refinance in Surrey, Vancouver BC would make sense are for:
Debt consolidation: Paying off your credit cards, loans or unsecured debt using your home equity.
Home improvement and renovations: Using your home equity to refinance and use the money for home improvements.
Purchasing another property: Using funds from the refinance of your existing property as a down-payment to purchase another property which may be a rental or upgrading to a different residence and renting the existing one or buying a vacation property.
Lowering monthly payments by increasing the amortization period or getting a better interest rate. For example, switching from a fixed to a variable rate if it makes sense.
For more information on mortgage refinancing across Surrey, Delta, Langley, Burnaby, Vancouver, Coquitlam, Port Coquitlam, Port Moody, Abbotsford, Maple Ridge, White Rock, Richmond & New Westminster, contact our experienced mortgage broker in Surrey, BC.
Our expertise advise and effort include for each and every one either Self-Employed, you want to Refinance, Private Mortgage, Second Mortgage or looking for investment in properties.
Its right time to go ahead and call us at 604-725-6734 or send an email to [email protected] for a Free Consultation!